So last night when I got home from work and got the mail I saw that two of my Ebay purchases had arrived before scheduled! It said since they were coming from so far away, that it could take into early February for them to get here. So it was an exciting surprise for me!
I didn't really remember to take pics at the time but I still have web and after pics for you.
First I got this bracelet/ring that I saw on
this post
from the awesome
Vintage Virgin
blog. It was from Ebay and was only $5!

Sorry it's so blurry, but you get the gist. I don't really care for the bells though and might remove them.
Also, =) ... my spikes came!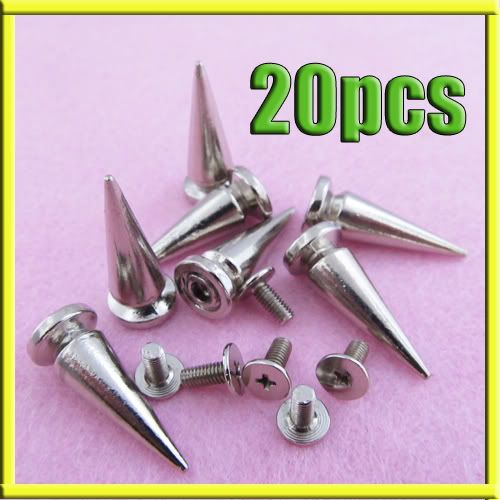 They are one inch in height and I immediately put them on the jacket I bought them for!
I originally showed this jacket I got from dd's in December and wanted to put the spikes on and now I finally did... I kind of wish there were more spikes but I love the way it came out. I used white balled pins to space them as I wanted and to know what I was doing as I was putting them on. Each shoulder got 10 spikes.

Here is the before and after, what do you think? =)