I have a couple pairs of shoes that I am just constantly thinking about and lusting for.
The first:
These black/floral wedges. I have this shoe in a hot pink and a blue. So I know how they feel and they are comfortable, especially because of the rubber on the bottom how it grips the ground when walking. However from the two sites that I know that sell them, one has gone out of stock, and the other only has other sizes.
So then I figured I could get them in this style:
The top ones are from one site, and the bottom ones are from the ever-so-loved
GoJane
. Again, I know how they feel because I have this style of shoe in a few other colors and they fit comfortably. (Not to mention I LOVE a real Lita and these would be a cute version of them. I only preferred the wedge bootie version better because you can see more of the print and I love the rubber on the sole.) So out of these two, I liked the bottom ones better just because they are darker and have more red on them. So I went to make the purchase of them the other night but didn't want to pay almost 10 dollars for shipping, therefore I needed my mom to add something to the shopping cart to equal 60 dollars or more for free shipping. So I'm checking out and...
...The site tells me it just ran out of my size!!!!! =-O .... The sadness. The other site with the top version is still available and are my last chance to get the floral booties I have been daydreaming about.
Unless...one of the sites or a separate site gets them back in stock. Ugh, I don't know what to do, really.
Next, we have the same wedge in a leopard print:
ugh... I can just imagine a black outfit with these killers on the bottom. Heaven. However, also out of my size on every site I have seen. *Super sad face*
And then...we have another pair of faux Litas from Ebay in the flag print I have been wanting: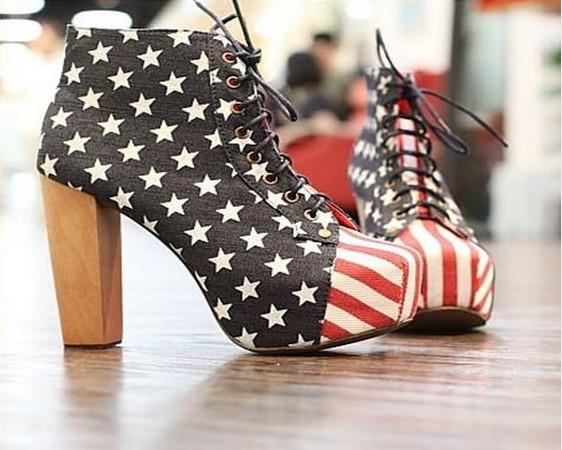 They look shorter to me, however their listed measurements are what I am familiar with and I think they are worth it. I just have to make the actual purchase and wait for the looooooong delivery since they are currently in China.
And Lastly, hahaha you may see a trend here but these I have been wanting for a long time and are the real time Litas (that I currently have none of because, for me, they are expensive)
I just can't get over the gorgeousness of them!! If I got only one real pair of Litas, these would be them. GAHHHH the beauty!